Digital Marketing is becoming a powerful growth driver for every business. You can achieve great success simply by avoiding these common digital marketing problems.
Digital marketing is well known and popular with everyone these days. But for many marketers, this is still uncertain.
So if you are someone into digital marketing, understanding online marketing problems is very important to survive and succeed.
The majority of the people in the world were entirely dependent on the internet these days. I say the majority here are still a few unfortunate people in a country like India with no internet access.
Keeping them aside, rest all people start and end their day in connection with the worldwide web. Hence it's clear, that the internet has become an inevitable part of everyone's life.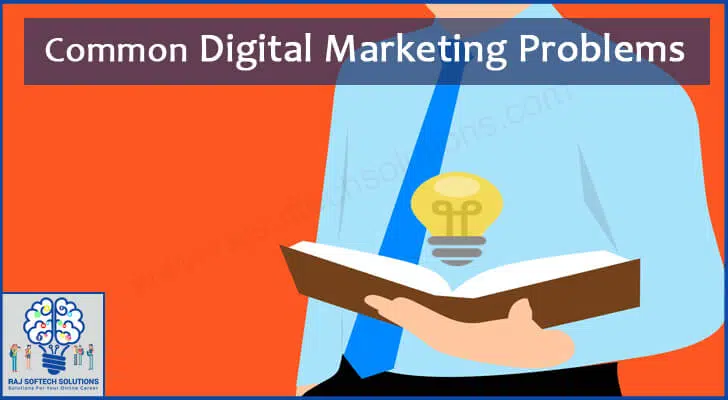 But have you ever thought of when these habits started invading our day-to-day life? How much does it influence our daily thought and decision-making capability?
The term digital marketing came into existence from the year of 1991. After the invention of the world wide web, it started to evolve much after that.
Precisely from the day radio was invented and people started using it. Since then, digital marketing had been the controlling power in the marketing field.
Now almost all business is dependent on these digital platforms for their successful growth.
You see, for even purchasing a bathing soap we think of buying one online. After seeing on digital platforms rather than one seen from the advertisements in newspapers. Isn't?
Yes. It does.
And the important factor to keep in mind is that Digital marketing is still changing. Soon it will wipe off traditional marketing from this world.
What is Digital Marketing?
In simple words, promoting or advertising anything through digital channels comes under digital marketing. Digital channel means social media platforms, search engines, websites, email, mobile apps, etc.
Even radio and TV ads are a type of digital marketing. There are different types of marketing techniques to improve reach and business.
So understanding them is the first step you need to take before marketing anything online. Let us see the main 6 types of digital marketing techniques.
Search Engine Optimisation (SEO)
It is the process of optimizing a website or a blog to rank the first page in the search engines. Here, we can refer to Google, as this is the most popular search engine nowadays.
The keywords people search should be available in your content for Google to recognize your website. So the keywords keep on changing and vary from person to person. Similar is the algorithm of search engines like Google.
It gets updated frequently. Hence it is crucial to make necessary changes in SEO strategies to get ranked in the top search results and increase organic traffic.
Social Media Optimization (SMO)
Similar to SEO, social media takes its pride after the invention of Facebook. Previously, Google's Orkut dominated the industry and let people socialize themselves.
People nowadays use Facebook, Twitter, and Instagram, where businesses can place their advertisements. Social platforms allow marketers to reach people directly.
Social Media Optimization is the process of creating a business profile and optimizing it to reach people. Some examples are Facebook pages, Twitter Pages, and Instagram Feed.
Social Media Marketing (SMM)
It is the way of advertising through social media. In this way, you can get more reach and increase brand awareness. In recent days, a majority of people are super active on social media.
Researches show that Instagram is the best platform to get more reach among youngsters. While for adults and old-age people, Facebook is the best medium.
Search Engine Marketing (SEM)
It refers to the paid advertisements that we see on top of any search results. Here the advertiser pays the publisher for each click visitors to make to their site through their ads. It is like buying search engine traffic for money.
Affiliate Marketing
Another popular means of digital marketing is where a company pays a commission to the affiliate for each sale he brings to the company through his referral link.
Here the affiliate is someone who influences his audience to buy the service or product he recommends. It is very common and popular these days which is generating more sales.
Email Marketing
Another marketing strategy that increases sales by many folds is email marketing. By listing the potential customer's emails and mailing them new offers or products and other promotions, you can initiate sales from their side.
Content Marketing
This type of marketing is by sharing informative content through blogs or videos regularly with potential customers or visitors.
In this way, your business brand gets more recognition and acceptance from people. It is one of the trusted means of marketing.
10 Common Digital Marketing Problems to Know
Having been introduced to the digital marketing classifications, now you may have got an idea of which is best for you to implement.
But before that, you need to understand the common mistakes someone new to digital marketing makes.
Without any ado let's start one by one.
1. Lack of Proper Digital Marketing Strategy
There are different classifications of digital marketing. Choosing the right strategy for your business is very crucial for progress.
So if you have no idea or lack proper knowledge about which strategy suits your business, digital marketing will fail you.
You will not be able to attract potential customers and clients, which is what any business needs.
A marketing strategy is a complete outline of specific ways (or a group of different ways) that help you to achieve the goal.
So how can you avoid it?
First, identify the audience your business targets and choose a suitable strategy.
For example, if your business is about fashion, consider choosing social media marketing as most youngsters are super active on all social media platforms.
If your company is a pharmaceutical firm, then collect details from hospitals and do email marketing.
If you are a tutor providing courses, then focus on the potential students. Use SEO to show yourself on top of relating keyword searches.
As I said before above examples, don't mean you should use only one single advertising method. But your focus should be on those means that majorly improve the reach of your business.
2. Not Defining Their Marketing Goals
Setting goals is a necessary task in any field when it comes to digital marketing. It is crucial not to be left behind in the race.
So what is a marketing goal?
It is the specific target that needs to get achieved. Possible within a time frame (be it long or short).
If your business doesn't have a goal, you will not understand your business growth and success.
Let me tell you a few marketing goals with examples.
Example no. 1
You are running a garment business. And want to make an increase in sales by 40% in two months. You may need to advertise your business more.
Provide more offers and referral offers so that more and more visitors may reach you.
Example no. 2
You are running a blog and want 10,000 more organic traffic to your blog in 3 months. You need to publish quality content more frequently.
Likewise, setting real-time marketing goals considering the resources you have is very much wanted to win step by step.
These goals help you understand where your business will reach within a year and help you decide further.
3. Not Defining Their Target Audience
When it comes to any business, the king is the customers. In the digital world, the audience is going to be the potential customers transforming into clients.
Advertising to all kinds of people will not help your business anyway.
So understanding the target audience and advertising to them is very important while marketing any business.
What is meant by the Target Audience?
Audiences who find your business and bring a sale with you are called the target audience.
Now, How Can You Identify Them?
For that, question yourself:
Which age group of people is in your focus?
Where do they live, in cities or rural areas?
What type of gender can bring more sales to your business?
Which religion do they belong to?
Getting an answer to the above questions will help you understand who to focus on and identify your target audience.
Still, there can be uncertainty because people's likes and dislikes vary widely.
Conduct surveys and ask for feedback from this set of people. It can help you to narrow down the list of potential customers.
4. Not Spending Money on Marketing
There are different marketing ways available that are entirely free of cost. So what the majority of small-scale businesses do is rely on these free advertising means to generate sales.
Let me tell you frankly that it is utter foolishness.
Spending some money on marketing will only bring you a fortune, but you need to choose the right way and the right tools for it.
Businesses are adopting free marketing means. And for you to stand out among them, you need to pay something extra.
If you fail to do so, then your business growth will be very slow. Also, free advertising can create a feeling of fraud business among people because anyone can freely access them.
So avoid it by using suitable paid marketing tools depending on the type of business you have.
Researches show that paid social media ads generate more sale in the year 2022. So don't waste your time achieving what you want for s small amount of money in the marketing area.
5. Under-utilizing SEO Techniques
As I have said in digital marketing classification, SEO is the prime factor in determining success in the digital world.
SEO brings you organic traffic. Here, the group of people that converts to clients for any business is high.
Not utilizing the SEO techniques properly means you are failing to be noticed by potential customers.
Now, what are those SEO techniques? I can list a few;
Understand what users want and create content for them. Go to platforms like Quora or use Google Analytics to understand the most popular page.
Generate SEO landing pages rather than a regular home page.
Develop mobile-friendly websites as most people use mobile for searching these days.
Proper usage of infographics.
Post informative short content on social media etc.
These are some of the basic techniques, and you can find details and explanations online.
These techniques get updated frequently with the change in people's demands.
6. Poor Content Marketing Strategy
Content is the master in digital marketing. It is through the content that people understand you and your brand.
So writing relevant and informative content and updating it is highly important. If you fail to plan the content marketing, it will create confusion among customers and visitors.
Hence there is a great chance that they leave you and go behind some competitor's brand for a piece of clear information.
So how can you improve your content marketing?
Have a look at the following tips
Be creative and stop sharing vague ideas for the sake of updating content.
Communicate properly with visitors and clients to understand their tastes.
Track your results using tools like google analytics and make suitable changes to improve yourself.
Learn from your previous mistakes and avoid them in your future journey.
7. Not Focusing on Local SEO
Local SEO helps to improve visibility in the local area search results where your business runs. It is beneficial for those types of businesses that have a physical location in local areas.
It helps to reduce Ad costs for you as it already comes in organic search results. When someone searches for a service on search results and finds it near them, they will probably visit that site to know more.
It can increase the ranking as well as more the chance for sales.
So how can you improve local SEO?
Add location-specific keywords to your website
Show your presence in local events online
Create a Google business account and include all relevant details visitors would like to know
Get positive reviews from local people near your business
Add location pages to your website and in Google Maps
Utilize social media platforms
Having said some of the techniques, I suggest you deeply research this area if you have a physical location.
Because Local SEO can tremendously help improve sales.
8. Clicks But Ignoring Conversions
Traffic is vital for digital marketing. But unless you are in a business, you aim to convert those traffic to sales.
What if you get only clicks but no conversion? The dangerous part is ignoring this and thinking only traffic is vital.
There are several ways to increase traffic to the website. Paid Ads help you get more traffic, but without getting sales, traffic is useless, and your money is lost.
So what can be the reason for not getting sales even after mass traffic or clicks?
You may be using popular keywords that don't match your content or customers' needs.
Your content may be vague and less informative, and not trustworthy to readers.
Your landing page will be some random page that doesn't impress visitors to hold on etc.
Now, what all do you need to know to avoid unnecessary clicks and increase conversions??
Usage of proper keywords that match with customers' needs.
Place Ads location-specific. If you want your customers to be from India, choose India in the location setting to show Ads in India only.
Show Ads specific to a device. Analyze from where most conversions occur, through desktop, tablet, or mobile phone.
Then avoid that doesn't help.
9. Competing with Tougher Competitors
Healthy competition is good in all fields. When it comes to digital marketing, you should have an idea of where your present stand.
Competing with big competitors will eventually drain your confidence as they have reached this level with much expertise and experience.
So you may have that pressure while taking all decisions when trying to compete with higher competitors.
It may lead to distorting your priorities which in turn hold you back from the goals you had once.
So how can you avoid these problems and healthily flourish? Follow these steps
Research and analyze your competitors and follow them to know the steps they take to step ahead.
Research the new content they share and add more details to publish yourself.
Use tools that help to reveal competitors' keywords and use those along with the keywords they missed.
Monitor their activity on social media platforms and understand which gets good responses from people and follow them or create better ideas.
Study their blog and newsletter and understand the way they approach readers or customers.
10. Not Using Effective Social Marketing Strategy
Social media is like a drug for the current society. Irrespective of age, gender, religion, and region, people are addicted to social media platforms.
So marketers' ultimate camping area is social media networks these days. There are several ways through which marketing is done on social media.
So if you ignore social media marketing, it will be a loss for your business growth.
Day by day, new techniques are brought by marketers to get noticed by people. And for you to stand out, you need to be creative as well as highly marketing-minded.
But using any marketing strategy is not going to help. Properly understand what you are aiming at and create an effective marketing strategy that brings more sales.
The current trending way is influencer marketing.
Marketers are approaching people who are super active in social media to influence their fellow friends and make a sale through the influencers.
Social media marketing is found to be more profitable than approaching celebrities for promoting a product/service.
Hence choosing the right strategy for your business can help you reach more heights with the base of social media platforms.
Conclusion
Digital marketing is booming day by day. It is about to supersede traditional marketing techniques. So understanding all the possible ways to succeed here can help you from falling into many hidden traps.
Having said this about the 10 common digital marketing mistakes any digital marketer faces. When you are new to this field, you have to understand where you need to take action.
Many people lack the patience to study what should be known before getting into a new field. The digital marketing area is a vast and growing field that gets frequently updated.
So having an idea of what should be avoided will help you to avoid many mistakes. Nothing comes easy, and experiences have their own power in teaching you great lessons in life.
But when it comes to business, no one wishes to take a chance of loss?
So doing proper research on the marketing strategies and assigning effective goals to achieve will help you grow steadily.
I will not say it is easy to succeed in the digital world. The competition is getting much tighter and day by day people are introducing new marketing techniques to attract visitors.
So among them, you need to succeed. You need to be very careful about the common digital marketing problems.
Understanding this will surely be a blessing, and you will realize it sooner. I hope this content helped you to make suitable decisions and ideas that should be avoided and added.