Want more eyes on your website – learn to Improve your WordPress SEO and market your business over a large audience base.
Today, there are millions of websites powered by WordPress CMS. After the invention of WordPress, the web development industry took a new phase in its revolution.
Let me come to the point, WordPress SEO is often the long debate in every niche. Every blogger and/or webmaster is working consistently to improve their WordPress SEO.
There are a few plugins like Yoast, RankMath, and All-in-one SEO doing their job. But, there are still some spaces outside these plugins which need manual attention.
Over 68% of the websites are built on WordPress. But SEO is the same for these sites and in this article, let me put through all my actionable SEO strategies.
Search Engine Optimization (SEO) is changing drastically over the past decade and becoming intelligent. Every online business needs SEO at every stage of its career.
Businesses have to take new and unique approaches to win this race. Ranking on the first page of Google and other search engines is the dream of everyone.
In this post, we are going to share a few foundation SEO tips that help you grow your organic traffic.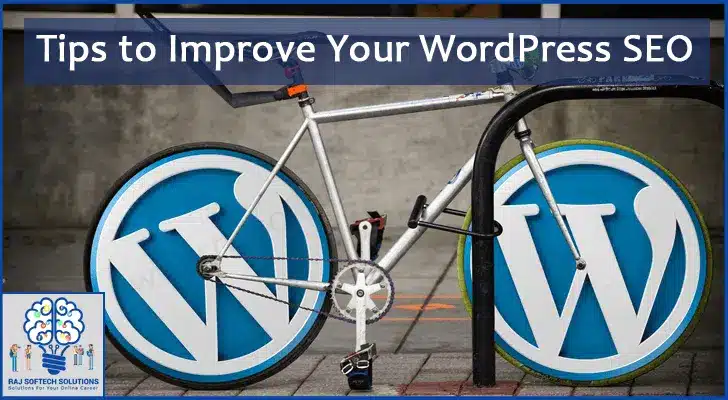 What is WordPress?
WordPress is one of the world's most popular content management systems. In the olden days, if we want to develop a website, we need to learn PHP, HTML, and MYSQL.
But, after the invention of content management systems, website development became easier. Even a novice individual can develop stunning websites.
There are many content management systems like Drupal, Wix, Joomla, Ghost, Magento, etc. But, none beats WordPress.
Today 8 out of 10 websites are developed through WordPress. Many big giants like times.com, TechCrunch, and search engine journals use WordPress.
So, you think to yourself why it's a go-to solution for many website developers and industry giants? It is invented in 2003 as a blogging platform.
Later, it pivoted to become a powerful and flexible solution to manage entire websites. You can develop any type of site from static to eCommerce applications.
What is WordPress SEO?
SEO aka Search Engine Optimization is the process of optimizing a web page to rank for a particular keyword in the search engines.
Today every website needs SEO to rank. Because this is the cheapest way to market your website and bring more visitors.
Since CMS helps you to save time in developing a website doesn't mean that it's a replacement for SEO as well.
SEO and WordPress are different but when combined will give you immense results.
Yet WordPress is not a magic weapon for SEO, but, the beauty is easily accessible to those who aren't experienced technically.
Many people still think that when we use WordPress to develop our website, SEO comes its way.
You need to create great content, earn quality backlinks, optimize your site to load faster, and ensure that it is free from technical issues.
In raw-coded websites, it is difficult to handle SEO, but WordPress helps you to care for this.
Just by installing some popular SEO plugins like Yoast, Rankmath, and All-in-one SEO, you can perform activities to improve your WordPress SEO.
1. Right Hosting Provider
Website speed is an important ranking factor in SEO. Google announced earlier in 2017, that the site speed has a moderate impact on ranking.
Web Hosting plays an important role in optimizing your WordPress site for SEO. Site speed, uptime, security, and reliability are all key reasons to think before you host.
Any website that takes more than 3 secs to load will lose its ranking. Also, it contributes almost 60% of revenue loss as visitors quickly leave the site.
Google is giving more importance to site speed and in 2021, they have announced Core Web Vitals.
Largest Contentful Paint (LCP) aka Loading
First Input Delay (FID) aka Interactivity
Cumulative Layout Shift (CLS) aka Visual Stability
From JUNE 2021, the Core Web Vitals are becoming a mandatory ranking factor. Hence, choosing the right and fast hosting environment is therefore essential.
Rajsoftech Hosting is packed with premium features that help to load your site faster. We offer shared hosting plans and managed WordPress hosting plans and you can choose based on your needs.
P.S. Host your WordPress sites on our Managed WordPress Hosting and experience super-fast hosting.
2. Choose the Right WordPress Theme
The theme plays an important role in WordPress website development. Because themes lay over the WordPress core software that allows us to customize the website.
WordPress has thousands of free themes that are available to download free from its repository. The theme makes usually concentrates on different factors of the website.
Hence, it is not uncommon for themes bundled with CSS files and scripts that may not be necessary for us. But we cannot remove it and it loads every time reducing our site performance.
Generally, WordPress themes are focused on presentation, layout, and templates, and SEO is usually at the bottom. As themes are mostly focused on User Experience.
So, the next time, before developing a site in WordPress, spare enough time to search for SEO-friendly themes.
Some of the recommended themes to improve SEO on your WordPress sites are:
GeneratePress
Thrive Themes
Genesis
Astra
SEO is going to rule the next few decades and it is therefore mandatory to select themes that give importance to SEO.
3. Install SEO Friendly Plugins
With just WordPress, we cannot develop a website. We require WordPress Theme to install and customize our website.
What if you want to collect emails from your site visitors?
And, how do you send a push notification when new posts are published?
These additional features can be done only by installing the plugins. To increase site functionality, we have to depend on plugins. But plugins are sometimes not SEO-friendly.
Plugin developers mostly focus on functionality and not SEO. Also, plugins won't optimize your site. It helps you to visually customize (or optimize) your site for SEO.
Another common issue is that WordPress sites are loaded with tons of plugins. It is a really bad habit, as it will affect your search engine ranking.
Plugins create too many unnecessary codes, markups, temp files, and other codecs that increase your page load time.
Sometimes, your website may return 500 errors as the server may fail (overload) to handle the request. Too many 400 & 500 errors can affect ranking.
So, keep the plugin minimal in numbers if you wish to improve your WordPress SEO. Install plugins from reputed sources as they focus on SEO as well.
4. Choose the Preferred Domain Name Version
The domain name is the identity of your website on the Internet. Every website has its own unique domain name which people used to search through browsers.
Usually, the domain name will come with a non-www version only. That is, we can able to register the name of the website only, 'rajsoftechsolutions.com'.
When you install your WordPress the first time, go to settings > general. Here set your preferred domain name version and follow the below instructions.
Choose your preferred version of the domain name (www or non-www), even though there are few direct SEO benefits. But, it is common that, people use to add 'www.' by default before every domain name they type in the address bar.
Too many redirects often affect your WordPress SEO. So set a preferred version of your domain name in your '.htaccess' file on your server.

All those above versions properly redirect to https://www.rajsoftechsolutions.com only.
Make sure all combinations of the domain name properly resolves to the preferred version.
5. Clean and Readable Permalink
This is often a not overlooked portion of SEO, but still has a moderate impact on your WordPress website ranking. WordPress gives you several different options for URL structure.
Tell me which URL looks clean and easy to read.
https://www.rajsoftechsolutions.com/wordpress-sites-get-hacked
https://www.rajsoftechsolutions.com/2020/10/wordpress-sites-get-hacked
https://www.rajsoftechsolutions.com/?p=15869
Ultimately the first one looks neat, clean, and readable. This is gonna be the preferred canonical URL for the blog post. The people can easily remember the first URL only.
Having a meaningful and readable URL helps to improve your WordPress SEO. So while setting up your WordPress for the first time, change your default permalink structure.
Login to your WordPress Dashboard > settings > permalinks > custom = '%postname%'.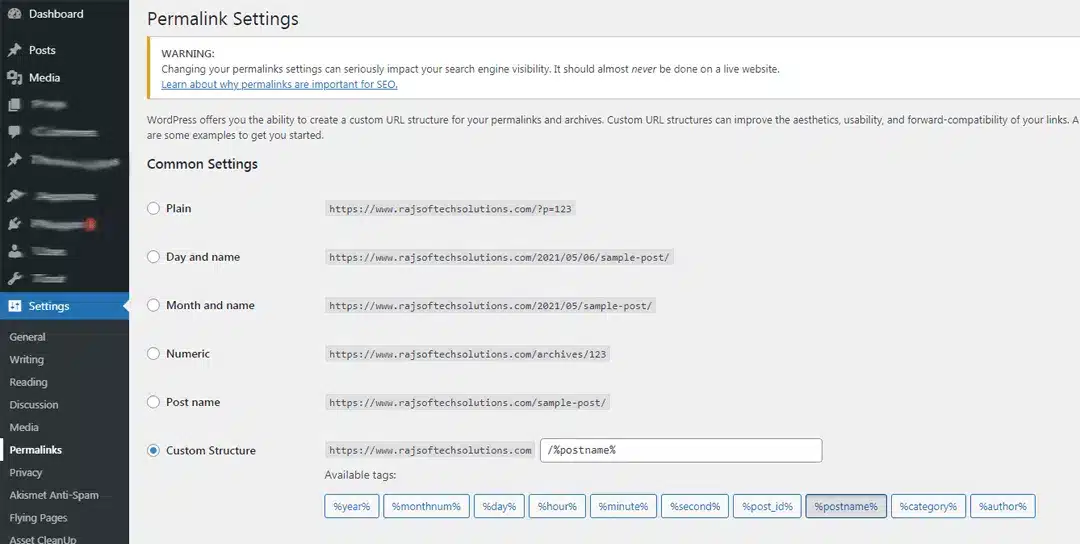 You can even customize this in the SEO plugin to make it more presentable, short, and simple.
P.S. Do not forget to add keywords to your WordPress posts/pages.
6. Activate BreadCrumbs
Breadcrumbs are a kind of secondary navigation link that helps readers to know their location on the website.
This small link will tell the users where they are now, i.e.) the relation between their current page location to the top-level pages (eg. home, contact, category, etc.)
Breadcrumbs are usually placed below the page heading and are linked to their destination. All the SEO plugins have this function disabled by default. It is mandatory to enable breadcrumb to ease user navigation.
Google in their algorithm update, explained that the use of breadcrumbs improves user experience. Simultaneously, activating breadcrumbs can increase your ranking chances.
If you are using Yoast SEO, simply go to SEO > Search Appearance > Breadcrumbs > Enable.
Make sure to get an SEO Expert's Assistance in this setup to avoid a mess.
7. Comment Section (Enable/disable)
The comments are yet another not overlooked SEO in the WordPress environment. Do you have comments enabled on your WordPress site?
If so, you should take care of the content in the comment. Too much keyword stuffing, poorly written sentences, and grammatical mistakes often affect your SEO.
If you don't enable the comment section, then there is no problem with your blog content. And do not remove the comment section after reading this.
Google's John Muller says, 'removing the comment from an existing site impacts ranking negatively'. Instead, rewrite comments and improve their quality.
Next time, when you set up your WordPress site, go to settings > discussion > default post settings > 'Allow people to submit comments on new posts.
It's up to you to enable or disable the comment section based on your site vision.
P.S. Comments increase user interaction and time on site. At the same time, spammy comments deteriorate your SEO.
8. Robots.txt file
Robots.txt is a small text file that instructs the web crawlers (aka spiders, search engine bots) on which pages or files should they crawl.
Generally, every search engine has a small software called bots, that surf our website and index our content in their database.
It keeps repeating this function every day or on alternative days to keep its database up to date. If it's your first-time WordPress setup (or) not, check your robots.txt file once.
If you find something like the below, you have done (or doing) a great mistake. It means that your site is not allowed to index.
user-agent: *
Disallow: /

Then, what else, no one will find you in the search results. Ultimately if your SEO Plugin settings are correct, but you forgot this, all your SEO will result in Zero.
Unless if you wish not to allow crawling by search engine bots, list only the path to the file/folder and disallow them. Do not accidentally disallow the whole site.
Conclusion
SEO is a critical element for every business. Because SEO supports the business by driving traffic without spending too much money on marketing and advertising.
Also, the conversion is usually high from the search engine traffic. Because the users are searching for something and landing on your website.
So the chances are more that they tend to opt for your services or buy the products. There are so many other SEO tactics, but in this article, we have shared the foundation SEO tips.
There are no second thoughts that WordPress is the best SEO-friendly CMS among others. It is an open-source platform supported by several developers across the world.
If you are stuck, there are so many resources out there to find a solution. That is why WordPress is still the popular CMS to develop websites and blogs.
The SEO giants like Yoast and RankMath are offering their great services to WordPress. By implementing the above strategies properly, you can rank quickly.
Raj Softech Solutions is 100% sure to top ranking if you apply the above tips to improve your WordPress SEO.
P.S. Try Managed WordPress Hosting starts at Rs.99 per month