Learn the various benefits of email hosting for your online business and understand how it helps your business grow?
Undoubtedly, email is an important communication tool for many individuals and businesses. In this article, we will be learning about the benefits of email hosting for your personal or business use.
There was a time when communicating with people who were far away was a hectic task. Earlier means of communication like letters took several days to reach the recipient.
This delayed many important messages to reach in proper hands. With the arrival of Email, things got much easier, it took no time to deliver the sender's message to the receiver.
With the emergence of the first free email service, 1996 Hotmail also called Microsoft Mail, the general public started using email.
As more potential users began using email, marketers found this a good opportunity to nourish their business. Email has become one of the top marketing tools for all types of small or large-scale businesses.
Today, everyone is using email and it has become a common means of communication systems these days.
You can choose yours from the many free email services like Gmail, Yahoo Mail, Outlook, etc. to create your free email account to get free email IDs.
But if you are into business and need an email ID for your business conversations. It is better to choose a good email hosting company to create your own email id.
History of the Email
So, What is an Email? It is a message sent from one user to another through the internet. An email address is required to communicate this way.
The email was invented in the 1970s by Ray Tomlinson who initially got the credit for developing the '@' sign.
Later Shiva Ayyadurai claimed that he introduced the basic features of an email, like From, CC, BCC, Subject, Attachments, etc.
Whoever takes the credit, Email was seen as too expensive by common people, and hence it was used by only universities and corporate companies
What is Email Hosting?
It is a service provided by a company that lets you receive, send, and store your emails on their server. As I said earlier there are a lot of free email service providers in the market.
Now you may be thinking, "Why should I pay for email hosting if free service is available?"
LOOK AT THIS!
When you create an email ID from those free service providers, your email domain name will be their company name. eg: yourbusinessname@gmail.com
But if you pay for email hosting, your domain address can be your choice. you can make it your business name itself. eg: yourname@yourbusinessname.com
See the difference?
The first one looks unprofessional and is available for free and anyone can create such a type of free email ID at any time.
But the latter type with your own business name as the domain name is unique and gives a professional feel. This can bring many benefits to your business.
So if you want to use an email for your business, it is better to use a professional business email address rather than a free email address.
Merits of Creating an Email Account
These hosting companies can provide many more services than a free email hosting platform with a certain subscription charge.
Now, what are the benefits of creating an email account in your domain name?
It helps to create trust in customers viewing your custom business email address
Allows you to market your brand whenever you send an email
It is easy for viewers to remember.
Important Benefits of Using Email Hosting
A free email address is good for you if it is for personal uses like communicating with friends or any personal use. But if you need an email for your business, you should create a business email at any cost.
It allows you to concentrate on flourishing your business rather than worrying about managing the emails. Paid Email hosting helps by providing you with premium email services.
It also ensures secure and stable communication which is an essential requirement for your business. So, by using an email hosting service you will get fast and efficient support for all the issues regarding any of your email accounts.
Why because you have a dedicated team for the customer support that you pay for.
Likewise, There are many benefits to hosting your custom email.
Let's check the major 5 benefits of using Email hosting.
1. Improves your Business Branding
As I have mentioned above briefly, having your customized email address helps to build a brand name among customers.
Getting noticed in this online world is a difficult task and everyone is finding different ways to achieve this. So having an email address with your domain name can grab people's attention.
Not only is it a brand name, but it also creates an impression of a quality and reliable business organization. As most people use free email services, there are a lot of scams going on.
People try to create fake email addresses claiming some other business and looting people who are unaware of all these.
So if you have a domain name for your own business, it shows you are genuine. Your business is genuine.
Hence customers trust your messages and your business.
2. Communication Made More Professional
A professional email address with the domain name as your business name has many benefits when it comes to business development
It makes your communication with customers professional thereby attracting more potential customers. Professional in the sense that your messages with customers are seen as legitimate for them to deal with.
An email sent from free email services like Gmail, Yahoo, etc will do the job, but they will not look professional like an email ID with a business name as the domain name.
Emails sent through business emails have been found to have a great impact on customers to take further action because it was convincing professionals.
Also, your email address will be superactive 24/7 without losing or delaying any messages.
If you want to get back an important email that you accidentally deleted, you can retrieve it while using paid email hosting, making all data safe and secure.
3. Increase the Security of Your Inbox
One of the major benefits of business Email Hosting is the security that it provides. You will get services like virus and spam filtering that protect your data in your inbox.
While you use free email services, they spy on your data to show suitable Ads. Most people don't bother with this or don't find any issue in doing so.
But when you have sensitive data to share about your business, you will never want to show your messages publically to anyone.
Here comes the importance of having a paid Email hosting service.
They provide end-to-end encryption to your data which helps you to share a message with whom you wish to share it only.
You will not need to worry about losing or sharing the sensitive data that you enter like passwords, usernames, etc in your inbox.
4. No Migration When you Move Your Website
Here is the tricky part. Most of the website hosting companies provide free email addresses to you when you join them as a package.
You may find it pretty exciting initially, but the fact is you are risking your business when you choose the wrong hosting platform here.
All your data may be lost when something happens to the server of that company or at least all your communication will be halted for a few days affecting your business dealings.
So if you host your website in one company and email in another, your chances of security are higher.
Also, people nowadays change the website hosting platform more often depending on their necessities and offers.
A moving website is simple, but this is not the case with email which contains more data. So if ever you wish to move only your website, you will need to move your email too making it all messy.
Thus if the hosting companies are different, then you won't need to migrate your emails and related data while you move your website with a different hosting company.
5. More Features
Apart from the above-mentioned benefits, it provides more features like extra space, brute-force protection, spam protection, etc.
One of the major issues businesses face while using free email services is the lack of storage.
Your personal day-to-day emails may not be large files and most of them can be deleted later to make for space for storage.
But in the case of business, you will have important files that you don't want to delete and take up more space.
Choosing an email hosting service provides mass storage and an additional email storage facility.
Spams are the most disturbing emails you could have seen in your email. These come more often even if you hate to see it, interfering with your important emails in all free email hosting services.
Paid email hosting filters your inbox from these spam emails and you can get a clean look at your inbox without surfing through spam mail.
Brute force protection is another major benefit of Email hosting.
It means hackers will not be able to track your passwords to steal your important data.
You will be getting additional features like backup, calendar, Shared contacts, and customization according to your needs
6. Integrate with Other Tools Easier
Usually, most email hosting provides many other services that help to increase your workflow.
For example, Outlook is an email management application. It allows you to organize your emails depending on your priority.
It also provides a calendar schedule for meetings or any important tasks you need to cover with utmost security.
Thunderbird is also a similar type of service. These services help your business in many ways.
So you need to be wise in choosing the best Hosting platform which provides maximum facilities.
Email marketing is still on-trend and can increase sales to your business. So you need to combine all those services with your business email.
And if they help integrate your custom-made email address with these services, that will increase the benefits of email hosting to your business.
7. Saves Money
If you want to maintain your email service up to date, you may require additional resources for installing mail servers.
You will also require maintaining a technical team to run them which is more expensive than Paid Email hosting.
So if you hire a professional email hosting company, you not only save money but also your precious time.
Also, your business will be getting more recognition among customers if you have your domain name as your business name.
Choosing the right hosting platform helps you grow your business by providing the proper tools for the work.
Hence I recommend choosing Rajsoftech Hosting Solutions personally.
They are much more efficient and provide convenient service making your journey to success stress-free.
Let me explain the steps to set up an email account with them.
How to Setup an Email Account with Raj Softech Hosting Solutions?
At Rajsoftech Hosting Company, we are committed to providing you with impeccable email hosting solutions. By hosting your business emails, you will get undeniable superior support and service.
This ensures that you are free from hectic tasks and stop worrying about your email security. Setting up an email account is a pretty simple process.
First, you have to purchase a suitable hosting plan and gain access to your hosting account through the CPanel control panel.
You can buy the hosting plans by clicking here. After buying the plan, log in to your CPanel account and scroll down to the Email section. Now you can see the "Email Accounts" Link. Click the link.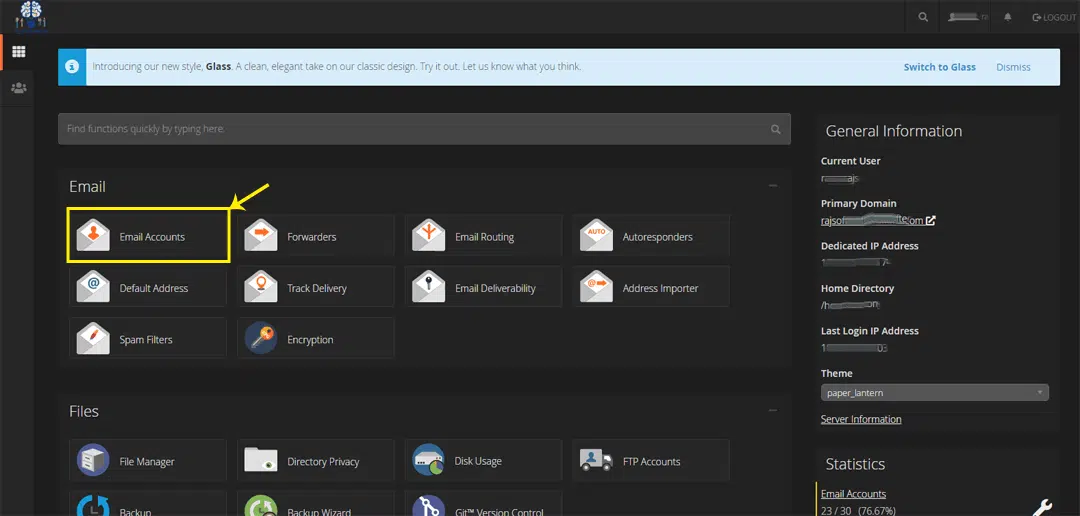 Now, you will be taken to the next window. Here, you find the option "Create" and click it.

In this window, you have to choose your "preferred domain name", type "username" in the field, and create a "password" for your account. You can also choose the storage volume for this account.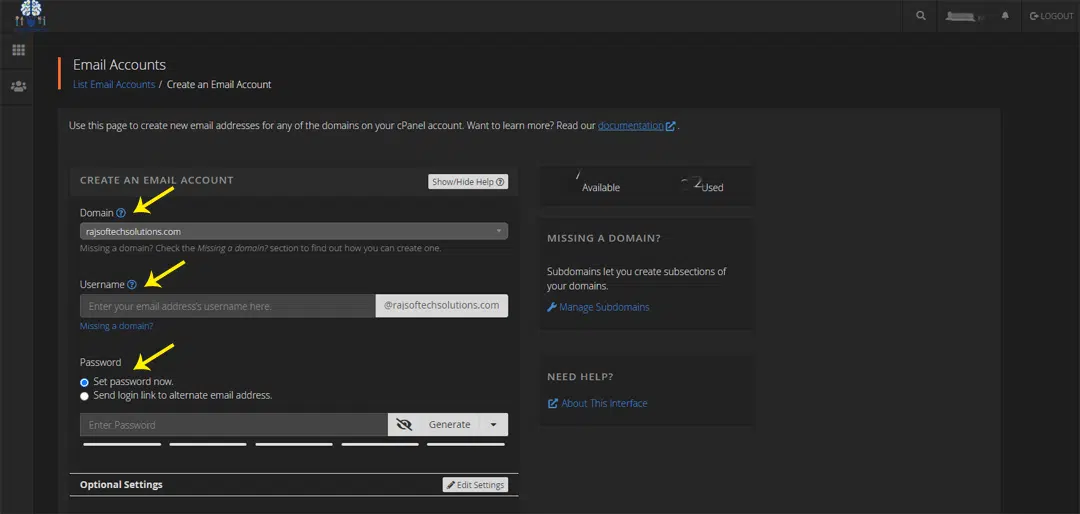 Finally, your email account is created and you are ready to go.

To access your email, use the URL, "http://webmail.yourdomain.com". If you are using SSL, use, "https://webmail.yourdomain.com"
Conclusion
According to some recent surveys, its found that almost 95% of people using a computer with the internet check their emails every day.
This shows how much emails are influencing common people's day-to-day life. So for business persons to promote their business, email is a valuable mode of communication.
With the available free email hosting services, you can create free email accounts. But you may find many drawbacks like
Limited storage
Less security and backup
No customer support
No Flexibility
Hence having a professional email hosting provider is necessary for the sustainable growth of your business.
The benefits of Email hosting are more when compared to the amount you pay to host them with a good hosting company.
Some of the benefits of Email hosting are
Improves your Business Branding
Communication made more professional
Increase the Security of your Inbox
No Migration When you move your website
More Features (like more space, brute-force protection, spam protection, etc)
Saves Money
Integrate with Other Tools easier
It provides more features and security than free email accounts provide making email hosting more popular these days.