How Much Does an eCommerce Website Price Cost to Build and Host? The range will be $500 to $5000. Will Study in Detail
If you are in a business that deals with selling products or commodities, we need an online presence to expand our business. Thus eCommerce Website becomes essential to take your business online.
In this article, let us discuss the Importance of Ecommerce and its immense growth in the Business Market. The Power of the Ecommerce business creates the magic of driving more consumers in the market.
Any pandemic situation like what we face cannot stop the real magic touch between you and the Shopify websites.
So, Digitalization takes the center of attraction as the consumers worldwide have internet access with minimal cost.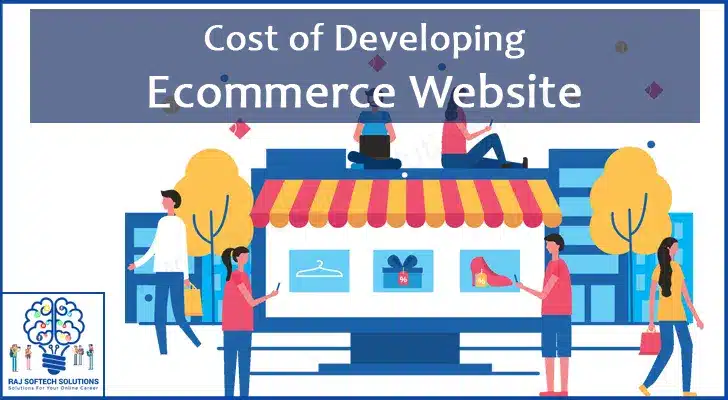 For example, you could start up your business in a small-scale model be it a grocery, boutique, and later you can expand.
Like Pothys, a garment firm used the power of this technology to swim through this pandemic situation.
Earlier, we spend most of our time selecting things in a crowded place and paying standing in a queue. But, online technology has made things easier for us as we can bring the sky down sitting at our home.
So, It's equally important to be wise in choosing the right business model with the knowledge of its market demand.
This article takes a closer shot at the drivers which help to innovate and withstand your traditional marketing strategies in today's market.
For any big or small business to come out of their shell- irrespective of any products or services- this article should inspire them to go ahead with the project.
1. How the Price is Determined to Develop a Website?
Before getting deep first you have to have a little knowledge about the overall cost of the website set up for any eCommerce business. It might cost you an average of $500 to $15000.
Based on the E-commerce business model, you can start your website step by step utilizing the below three options:-
1.1. Business Industry Selection
You have to be very clear about what field of business you are going to choose. The market study, clear goal settings, targeted approach, financial planning are the four pre-requirement you have to be ready with.
Choosing the best and right business industry from a vast pool of options is a difficult but much-needed one. There are many options available like groceries, restaurants, saloons, fancy stores, garments, etc.
Choose the field which best interests you which will give you career growth. But, at the same time measure the level of competitors of the field which you choose.
Every Industry growth curve depends purely on the product market value which each one holds. Be it any platforms you choose, be sure to choose the right one which fits you.
1.2. Web Development Company Selection
Price again depends on the overall selection of the web development company where you wanna take help in building your website. You can approach the following three sets of people.
Big Established companies
Those are the ones who know tips and tricks well as they will be in the industry for many years. They can provide you hand in hand in developing the website but are not affordable for small businesses.
Startups and/or Freelancers
You can get at the cheap and best price, be ready to compromise with certain functionality features of your website. At your own risk find trustable freelancers, only for a particular period not as and when required at the later stages.
Custom Web Development Agency
It's always best to identify a firm that provides varying services like social media marketing, customer relationship management, advertising, link building, SEO, and more. You can get bundled services at the expertise level.
1.3. Software Selection
In this online world filled with more shops and stores, your business demands the best e-commerce software to stand out.
Choosing the right software for you will help you grow heights as well as with lots of money too.
Ecommerce software is an all-in-one solution that has pretty much all Built-in features. This simply includes add and sell products, manage your inventory, accept payments, deliver orders, and sort out taxes.
On a High level you can choose between two options they are:
Hosted e-commerce software (more user-friendly) enables you to build an e-commerce store without coding knowledge. Eg: Shopify, BigCommerce, and Volusion.
Self-hosted eCommerce software like WordPress is determined to be the powerful driver of millions of online stores. While American brands choose software like Shopify and BigCommerce.
2. Ecommerce Website Pricings in India
In today's world, a website created for every business is treated as a backbone of success. It is expected that having a website for your business is like having a business card.
A website tells about you, the nature of your business, the services offered, market experience, credibility, and much more.
According to the investment bank morgan forecast report, India's eCommerce market is expected to grow at a CAGR of 30% and will reach $200 million by the year 2026.
Also, as per Statista, India recorded 224 million digital buyers in 2018, which will rise to 329 million by 2020, which is a highly rapid rise rate. Now let's move on to the overall cost and its breakup of building a website.
2.1. Factors to consider for developing an eCommerce website
With so many options available to choose from for developing an eCommerce website, I have listed out a few factors to consider to avoid confusion.
Design of your website
There is a big difference in cost for a website demanding fully custom design vs. a template.
Good professional designs may cost INR 10,000 to 60,000/-.
For an exclusive design, cost around INR 100,000 to 300,000/-
Website Functionality
When you create a website with customized functionality and unique programmed features will increase pricing.
You can contact us at Raj Softech Solutions at any time for this specific pricing query.
Marketing and SEO
SEO set up helps in driving traffic to the created website.
This is an optional but critical feature that might cost every month between Rs. 5,000 INR to Rs. 50,000 INR/-.
Third-party Integration
Making an eCommerce website work hand in hand with an ERP or other third-party systems can cost you Rs. 10,000 INR to Rs. 30,000 INR.
Development Company Selection
You can hire a freelance developer from renowned websites like Upwork, or can develop on your own using free tools like WIX.
Another option is to choose a Custom web development agency like us "Raj Softech Solutions", which is cheap and best.
Alternatively, can choose established companies that might cost you double fold. When you go with an established firm, your e-commerce website price will be anywhere between Rs. 10,000 INR to Rs. 5,00,000 INR.
On a whole, if you are expecting sales to turn over around $50,000 a year, you can build a website for a $5,000 range.
Higher the potential customers you have higher eCommerce website price it costs you. Because more features and functionality will be needed to win the market edge.
3. Cost Breakdown of an Ecommerce Site?
To dig a little deeper into cost breakdown for developing an eCommerce site, I have come up with calculating certain common factors:
| Description | Small Site | Medium Site | Heavy Site |
| --- | --- | --- | --- |
| Domain Name (yearly) | up to $15 | up to $15 | up to $15 |
| Web Hosting (monthly) | $15 – $50 | $100 – $150 | $150 + |
| Software Licensing (one time) | up to $150 | up to $300 | up to $600 |
| Development (one time) | up to $600 | $600 – $1500 | $2000 + |
| Setup / Config (one time) | up to $250 | up to $600 | $500 + |
| Training (recurring) | up to $100 | up to $250 | up to $500 |
| AMC (yearly) | up to $1000 | up to $3000 | up to $5000 |
| Total Cost (Development) | up to $1200 | up to $2800 | up to $5000 |
| Total Cost (Maintenance) | up to $1000 | up to $1000 | up to $1000 |
Cost Breakdown of Ecommerce Website Price
Small Site = up to 100 products
Medium Site = 100 to 500 products
Heavy Site = 500 + products
The below ones are other factors considered for creating a website successfully:
3.1. Business Model
There are two basic business models to be considered according to your need you can have your website designed. They are a single vendor and multi-vendor model type.
In a single seller website/app you can be a boss of your app or site. You are the only shop owner selling products through the website.
On the multi-vendor website, you can add any number of shops or categories of shops in a particular area. Each vendor will own a separate store on the website (Eg: amazon. in or Flipkart etc.,)
3.2. Number of Products
There is no doubt that you create your website to brand your products. Depending upon the number of products, your website would contain additional pages created.
This means customizing each page for every product or category of products might cost: $50 to $200. Also, the website can be customized to have a product catalog that might charge you extra.
Product detailing, shopping cart integration to each product can be added features. Even though customizing might cost you higher but it is very important to enhance customer transactions with speed and ease.
3.3. Target Country
Understanding the target audience is very important in making your website a super hit. If you are targeting a global site then package pricing would vary accordingly.
Because global site requires the best web design, color schemes, layouts, etc. If your site satisfies these parameters then abandoned carts quantity would be reduced.
Global website design targeting not only the local audience but oversees requires more effort in overall site-building.
Few things you have to concentrate on are covering up possible payment gateways, return products abiding by country-specific rules.
3.4. Web Development Company and Its location
Fishing for eCommerce tech development partners or eCommerce vendors can be confusing and tiresome. As the market is filled with lots of offers, difficult to find a genuine place.
If you have a small project, hire a freelance software developer at low rates. Alternatively, hire a web development consultancy offshore or nearshore.
Offshore development rates range from $25 to $50 per hour whereas near-shore bit expensive comparatively.
However, look into factors like after-sale support, design development approach, location, scalability, and choose wisely.
3.5. Web Development Platform
There are a few common eCommerce website platforms are available such as Woocommerce, Magento, Prestashop, open cart, big commerce.
Many web development platforms come under two main categories like self-hosted, hosted ones.
Woocommerce:
Woocommerce is a powerful eCommerce WordPress plugin developed for WordPress Websites. Nearly 68% of the websites in the world are powered by WordPress.
Hence, most companies are using WordPress to develop eCommerce sites.
Magento:
It is also a self-hosted eCommerce solution rated 2.5/5 score in the "ease of use" research category.
Got options to Sell physical, downloadable products. Accept the Worldwide payment. Add multiple product variants. Generate total revenue reports, View total visitor count, etc.
Prestashop:
Its also one other eCommerce platform which offers certain free features with module add-ons.
Module add-ons include sending abandoned cart reminders, integrating with Amazon, and with many payment gateways like Pay Pal.
Also, create newsletters, Review your site's e-commerce stats, etc.,
Opencart:
Like woo-commerce, Magento is also the best eCommerce solution. Its other features include unlimited product categories, customer reviews, and ratings, supports for multiple currencies, the ability to sell digital products (like e-books), etc.
Big Commerce:
It is the best-hosted eCommerce platform for any fast-growing business. It has got much-needed scalable built-in Features, strong SEO friendly, and multi-channel Integration features.
3.6. Third-Party Integration
Ecommerce website price also involves the cost of integrating third-party services. Every single eCommerce development project will include 3rd party integrations to enhance customer experience features.
The eCommerce partner can wade you through a sea full of options with varied pricing in the market out of which few are listed below.
Payment Gateway:
An essential part of the website without this the whole concept is incomplete. You have to add e-commerce transaction features enabled via debit cards, Netbanking, Gpay, Mobile Pay, in foreign currencies, or through Amazon, PayPal, etc.
Social Sharing:
The benefit of having Social share buttons paves a way for free promotions from the customer side on behalf of the owners. Add this for a single product which increases the chances to get display their purchases on Facebook, Twitter, Pinterest, share between their friends and families.
Product Wishlist:
Having this feature will help you in a way to segregate popular items in your inventory and be a source of valuable market research. If customers have added products to the wishlist then they don't have to search again also reduces the visitor traffic spike level.
Product comparison:
Adding this feature helps customers to compare the necessary details of search products on a single page. Having this as a built-in comparison tool drives in more traffic, as well as manages the competition effectively.
Conclusion
If you are looking to transform your brick-and-mortar store into an eCommerce website at the best price. Why are you waiting for?
Get a free quote to know the eCommerce website price for creating a business website for your business.